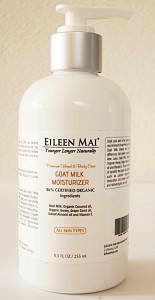 Goat Milk Moisturizer
8oz/240ml
$18.00
86% CERTIFIED ORGANIC Ingredients
Soak your skin in the revitalizing, conditioning nourishment of EILEEN MAI® Premium Hand & Body Care Goat Milk Moisturizer and you will see the difference. EILEEN MAI® creme is packed with Organic Aloe Juice, Goat Milk, Organic Coconut oil, Organic Honey, Grape seed oil, Sweet Almond oil and Vitamin E.
There is a surprising number of benefits that goat milk provides to the skin, such as calcium regeneration and skin restoration. EILEEN MAI® creme is nourishing, soothing and refreshing for your skin. Fragrance Free.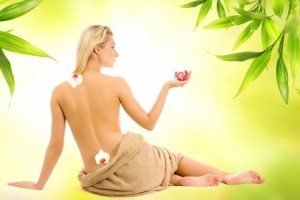 RECOMMENDED SKIN TYPE
All Skin Types
DIRECTIONS
Apply to entire body as often as needed throughout the day to hydrate and nourish the skin. Pay special attention to hands, feet, elbows and any other area of your body that is prone to dry skin.
CAUTION
Avoid contact with eyes and mucous membranes. Keep out of reach of children. Stop use if irritation occurs.
NO Parabens, Phthalates, or Harsh Chemicals.
Fragrance Free, Gluten Free, Cruelty Free. Vegan Formulas.
| | |
| --- | --- |
| KEY INGREDIENTS | FUNCTIONS |
| Goat Milk | Calcium regeneration and skin restoration |
| Organic Coconut Oil | Anti-Oxidant rich with high levels of Lauric Acid, a natural antimicrobial that protects against bacteria. Very good for dry, itchy, sensitive skin and will not clog pores. Readily absorbed into the skin, giving it a smooth feeling. Will not cause breakouts or leave a greasy residue on the skin. Suitable for those with sensitive, inflamed or irritated skin. |
| Black Willowbark | Contains naturally occurring Salicylic Acid. Promotes skin cell regeneration, smooths out rough skin, helps reduce fine lines and has a balancing effect on oily or acne-prone skin. |
| Organic Aloe Leaf Juice, Organic Honey, Grape Seed Oil, Sweet Almond Oil | Anti-inflammatory agents that sooth, moisturize, and calm skin. |
For complete list of ingredients, please email to:  skincare@eileenmai.com