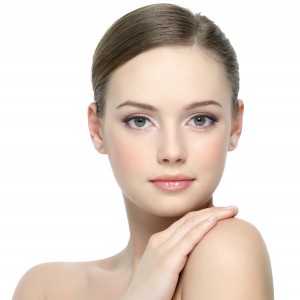 In the 30s, the skin begins to thin and become more vulnerable to the environment. Most women begin to notice fine lines and wrinkles in their 30s, because of declining collagen and elastin. Skin regeneration also slows dramatically, leading to a dull, uneven skin tone. In addition to sunscreen and antioxidants, this is the time to concentrate on cell turnover.
Women in their 30s need to start incorporating proven collagen and elastin supporting ingredients into her daily routine, such as peptides or retinols.
This is also the age you should start using a brightener, even if you don't have obvious spots. Many people have pigmentation that's visible with UV photography, if not the naked eye. Treating spots before you see them can keep them from surfacing. Use a formula with brighteners such as licorice and vitamin C once a day, an exfoliating cleanser with glycolic or salycylic acid and an exfoliator once a week- it encourages cell turnover, which helps keep spots from forming.
Using a good eye moisturizer product twice daily if you have not done so in your 20s.
Followings are the recommended products:
[table "8" not found /]
NO Parabens, Phthalates, or Harsh Chemicals.
Fragrance Free, Gluten Free, Cruelty Free. Vegan Formulas.