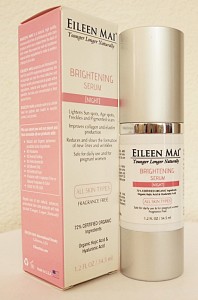 Brightening Serum (Kojic Acid)
All Skin Types. 1oz/30ml
$46.00
72% CERTIFIED ORGANIC Ingredients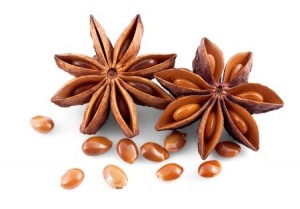 Absolutely no Hydroquinone (a very common skin lightener that has been listed as a potential carcinogen and can damage your skin if used improperly). EILEEN MAI® Brightening Serum instead contained a high concentration of natural skin brighteners to effectively improve skin's production of collagen and elastin, reduces fine lines and wrinkles, lightens discolorations, and brightens skin without any harmful side effects.
It is formulated with a special multi-benefit complex of Kojic Acid, Organic Licorice, Glycolic Acid, Chinese Ginseng, Lemon Balm, Organic Horseradish, Organic Anise, Organic Schisandra, Organic Jojoba Oil, …  to provide the skin with the ultimate brightening benefits. Safe for use by pregnant women.
A fast-acting, lightweight serum that visibly and immediately improving the appearance of dull complexions by promoting clarity and brightness, revealing a luminous complexion and youthful glow.
Lightens sun spots, age spots, freckles and pigmented scars
Improves collagen and elastin production
Reduces and slows the formation of new lines and wrinkles
Brightens skin for a younger, more even toned complexion
Safe for daily use and for pregnant women. Fragrance Free.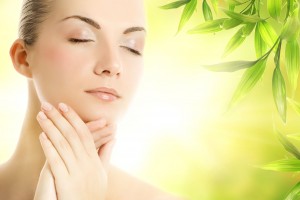 RECOMMENDED SKIN TYPE
All Skin Types
DIRECTIONS
Moisturize your face and neck with serum every morning and/or night, after you cleanse and tone.  Avoid contact with eyes.  Always moisturize your face and neck in upward motions. Moisturizing is important for all skin types. In every step of skin care, always use circular, upward motions with a gentle touch on your face.
CAUTION
Keep out of reach of children. Use only as directed.
NO Parabens, Phthalates, or Harsh Chemicals.
Fragrance Free, Gluten Free, Cruelty Free. Vegan Formulas.
KEY INGREDIENTS
FUNCTIONS
Kojic Acid, Organic Licorice, Glycolic Acid,

Chinese Ginseng, Organic Horseradish, Organic Anise, Organic Schisandra

Assists in reducing the formation of melanin, which is responsible for skin discoloration and improves collagen and elastin production. Refine and brighten the skin.
Hyaluronic Acid (plant based)
Provide moisture binding activity and help create more resilient skin, plump up fine lines, and reduce the appearance of wrinkles
Lemon Balm, Organic Aloe Leaf Juice, Organic Jojoba Oil, Salicylic Acid
Natural, gentle exfoliating anti-inflammatory agents to sooth and moisturize, leaving skin very soft. Tone, refresh and purify.
For complete list of ingredients, please email to:  skincare@eileenmai.com