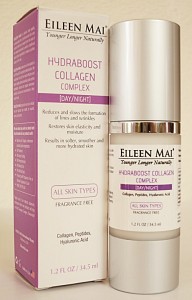 Hydraboost Collagen Complex
All Skin Types, including Sensitive Skin. 1oz/30ml
$60.00
Our Hydraboost Collagen Complex is the ultimate anti-aging moisturizer, contains a unique formula of pure marine collagen, multi-peptides and hyaluronic acid to help plump and "fill in" wrinkles, resulting in smoother and more hydrated skin relief.
Hydraboost Collagen Complex makes skin feel soft, light, and velvety. Absorbs quickly and leaves a smooth, non-greasy finish. When used prior to makeup, helps to achieve an even application.
Reduces and slows the formation of lines and wrinkles
Restores skin elasticity and moisture
Results in softer, smoother and more hydrated skin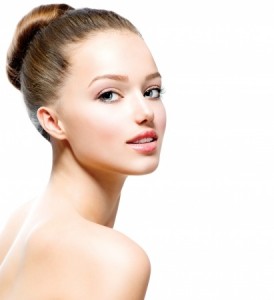 RECOMMENDED SKIN TYPE
All non-problem skin types.
DIRECTIONS
Apply directly to the skin after cleansing, and prior to the application of any other facial product. Especially effective on the forehead and upper lips. May be used on the entire face and neck. Use twice daily. Follow with moisturizer (if needed).
Moisturize your face and neck with serum/cream every morning and night, after you cleanse and tone.  Always moisturize your face and neck in upward motions. Moisturizing is important for all skin types. In every step of skin care, always use circular, upward motions with a gentle touch on your face.
CAUTION
Avoid contact with eyes or mucous membranes. Apply far away from the eyes, may feel tearful if product is close to the eye area.  Keep out of reach of children. Use only as directed.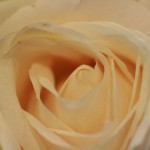 NO Parabens, Phthalates, or Harsh Chemicals.
Fragrance Free, Gluten Free, Cruelty Free. Vegan Formulas.
| | |
| --- | --- |
| KEY INGREDIENTS | FUNCTIONS |
| Collagen | Effectively helps to diminish wrinkles and age lines while providing a skin tightening and plumping effect by helping to tighten the cell connections for improved skin firmness |
| Placenta extract (botanical origin) | Effective in restoring skin elasticity and moisture while increasing cell renewal to provide a smooth and even texture to the skin. |
| Matrixyl 3000 (Palmitoyl Oligopeptide, Palmitoyl Tetrapeptide-7) | The combination of these two peptides working together to restore and maintain the skin's youthful appearance by decreasing wrinkle depth and density.  Help to promote Collagen and Elastin production to increase skin firmness and further reduce and slow the formation of lines and wrinkles. |
| Hyaluronic Acid | A natural key component of the dermis that holds 1000 times its weight in water. It effectively binds water to cells and is responsible for the elasticity and resiliency of the skin |
| Corn derived live cells | Help to improve the complexion by providing skin with nutrients |
For complete list of ingredients, please email to:  skincare@eileenmai.com